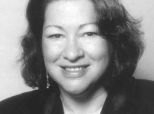 Good Morning Bloggers! Jonathan Turley on
MSNBC
this morning said that President Barack Obama's new choice for the Supreme Court,
New York jurist Sonia Sotomayor
, is considered an "
intellectual lightweight
" by most "
intellectual court observers
." I don't know what to say about that point, but I will say that I was struck by the speeches this morning.
Her story is the quintessential American story, and it begs the question whether having a little more humanity on the court is more important right now than one more brilliant jurist. President Obama obviously thinks so, and he's an excellent legal scholar. I think I'll go with his expertise and ignore the talking-heads for now. It seems like a good choice to me.
The idea of our first Hispanic justice is also very exciting. Her "
common touch and a sense of compassion
" seem like excellent qualities for a person who is meant to judge our laws and our lives. Republicans may not understand the emotion, but I agree with the president -
empathy is a very good quality when it comes to judging others
. So far, I'm a big fan of the 54-year-old Sotomayor. I guess we'll all have to wait and see how it unfolds over the summer. For now, I'm very happy! I'll write more about it later.
Tuesday's Political Rave -
Michael