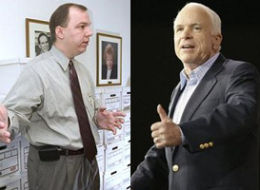 Hello
Bloggers
- If you haven't seen it already, you simply must read
McCain Employing GOP Operative Accused of Voter Registration Fraud
now on the
Huffington

Post.
Incredibly, McCain's campaign directed $175,000 to the firm of a Republican operative accused of massive voter registration fraud in several states, while at the same time screaming of "fraud" and a "threat to democracy" because of ACORN.
Public documents reveal how a joint committee of the McCain-
Palin
campaign, the
RNC
, and the the California Republican Party, made the payment to the group Lincoln Strategy in June for purposes of "registering voters."
Read the whole article
here
.
The ACORN story was always BS, but the corporate media still covers it. I guess we'll have to see if they cover this one too. I somehow doubt it. McCain has some
cahones
to go after ACORN while funding a group under investigation in multiple states. I guess it's typical Republican,
Rovian
hubris. The sad part is they're proud of it. I need a shower.
Monday's Political News #1 - Michael